This 2019 Dodge Challenger's Middle Name in "Quarter Mile" — Sort of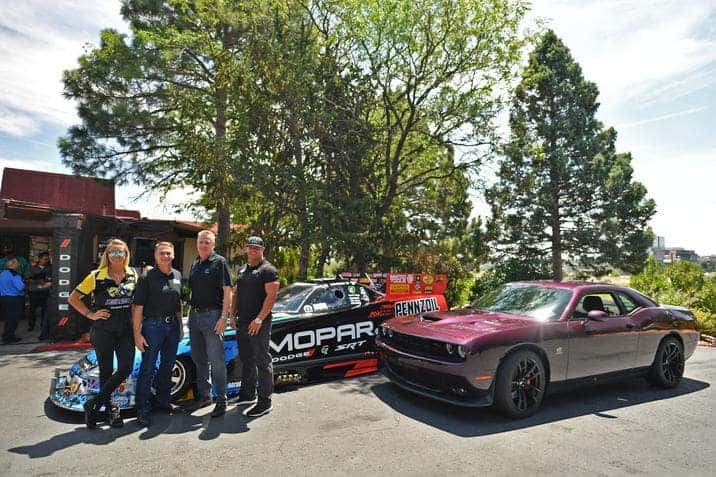 Dodge loves showing off the Challenger's abilities in the quarter mile — especially the insane quarter-mile sprints the SRT Hellcat model pulls off. But what about those who can't quite get their hands on the Hellcat? Dodge has the answer for you in the 2019 Challenger R/T Scat Pack 1320.
For those wondering what in the world this car has to do with the quarter mile, 1320 is the number of feet in a quarter mile. Sneaky, huh? So, what does this beast have to offer? Let's dig in.
It starts with the R/T Scat Pack's 392-cubic-inch HEMI V-8 engine that cranks out 485 horsepower and 475 pound-feet of torque. This power routes through an eight-speed Torqueflight automatic transmission on its way to the rear wheels. This special 2019 Challenger through the quarter mile in just 11.7 seconds at 115 mph, which makes it the fastest naturally aspirated production muscle car, and to 60 mph in just 3.8 seconds. These numbers are 0.3 seconds quicker than the standard Challenger R/T Scat Pack. 
It also boasts loads of other performance bits, including SRT-tuned Adaptive Damping Suspension with Drag Mode, Line Lock, TransBrake, Launch Assist, Launch Control, Torque Reserve, Brembo brakes, and extreme-duty 41-spline half shafts. On the rear are Nexen SUR4G Drag Spec 275/40R20 street-legal drag radial tires for added traction.
Inside, Dodge went all out to cut weight, as it comes standard with only a driver's seat. Want the passenger and rear seats? No worries, they are available for just $1 each.
On the outside, the launch model will boast a new Black Eye high-impact paint, which may eventually become a production color. It will also boast a new "Angry Bee: logo and 20-inch low-gloss aluminum wheels.
The 2019 Challenger R/T Scat Pack 1320 will be a $3,995 upgrade to the base Scat Pack Challenger, making is $38,995. You also have to go with the automatic transmission, which adds another $1,595. Plus, there is the $1,395 destination fee.
Buyers can order their 2019 Challenger R/T Scat Pack 1320 in late-2018 with delivery slated for early 2019.
If you cannot wait, we have plenty of 2018 Dodge Challengers available here at Garber Chrysler Dodge Jeep RAM serving Saginaw, Michigan. Stop by or check our online inventory today.
Join the Conversation
Comments
comments