The Demons are Coming Out to Play
The long wait is officially over and the 2018 Dodge Challenger SRT Demon vehicles are on their way to their new homes. If you're one of the lucky 3,000 US residents who secured one, you can track your package online from Dodge Demon website. For the rest of us, let's delve into the details of what's standard and option on this incredible dragster and then browse our current inventory of Dodge vehicles to start shopping for your car from the Brotherhood of Muscle.
Standard under the hood of the new Dodge Challenger SRT Demon is a 6.2-liter V8 engine that delivers a beastly 808 horsepower and 717 lb-ft of torque. But if you opt for the additional equipment, you can boost those numbers to 840 horsepower and 770 lb-ft of torque on the first-ever production car to achieve a front-wheel lift as certified by Guinness World Records.
"The people who bought a Dodge Challenger SRT Demon are performance enthusiasts to the core, and having a custom car with accessories that improve overall performance is critical," said Tim Kuniskis, Head of Passenger Cars, Dodge//SRT, Chrysler and FIAT, FCA North America. "With that passion for both performance and their new limited-production Demon in mind, we've pulled together a collection of materials designed to help them learn about, track, protect and maintain the newest member of the family. These accessories are designed to build on the exclusivity and future collectability of this limited-production car."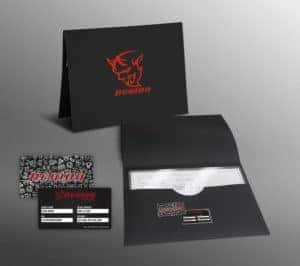 There is a slew of extraordinary accessories that come standard with the Demon and some that are an addition for just a buck here or there. Yes, you read that right, Dodge charges you just $1 for some really interesting add-ons that you should take advantage of if you have the chance.
Every Dodge Dodge Challenger SRT Demon comes with a collectible leather-bound track tech manual written by the editors of Hot Rod magazine
Opt for the available Demon Crate that you can get personalized, includes all the necessary performance parts to unleash the full potential 840 horsepower, available for a U.S. MSRP of $1
Get the Demon Authentication Package, also available at a MSRP of $1, includes a carbon-fiber Certicard, as well as individual build sheets packaged in a hermetically sealed sleeve placed inside an archive portfolio, designed to manage and protect all original Challenger SRT Demon documents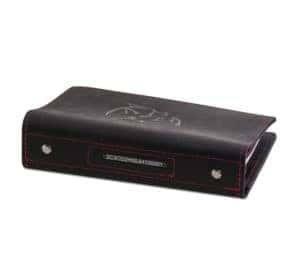 Customize the interior with a satin stretch indoor custom car cover that matches your paint scheme and has the name of your choice embroidered on it for a MSRP of $695
All this and more is en route to the lucky drivers of this incredible muscle car. While we might not have the Dodge Demon available for you to test drive, we do have plenty of other exceptional New Dodge Vehicles that are ready to help you turn your commute into a drive you love to take. See our online inventory now and then stop by for a test drive today!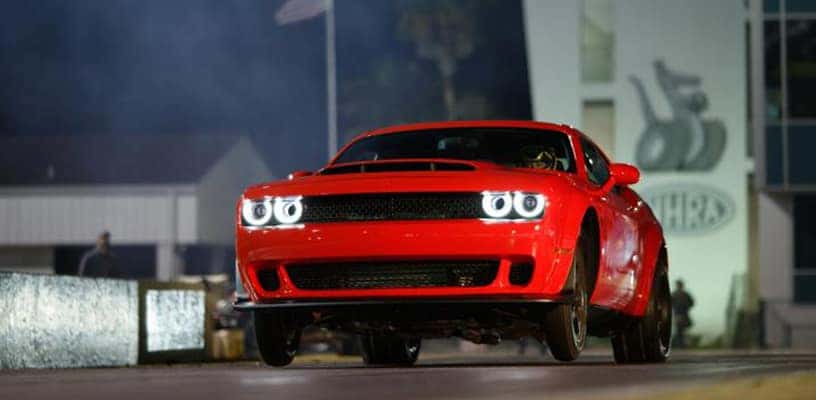 Images Courtesy of Dodge Media
Join the Conversation
Comments
comments