The Chrysler Pacifica Hybrid Engine Earns Top Award
The 2018 Chrysler Pacifica Hybrid has already earned a number of prestigious awards, but we're thrilled to add another to the list:  the 2018 WardsAuto 10 Best Engine Award. A leader in the plug-in hybrid segment, the Pacifica Hybrid is the most fuel-efficient minivan ever and it's all due to the exceptional power of the 3.6-liter Pentastar eHybrid. It earns an EPA-estimated 84 MPGe, an electric-only range of 33 miles, and a total driving range of 570 miles. The Chrysler Pacifica Hybrid earned this award for the first time last year and is proud to have captured the recognition again this year.
"We knew this was a special project when we were asked to develop the most fuel-efficient minivan ever," says Bob Lee, Head of Engine Powertrain and Electrified Propulsion Systems Engineering, FCA – North America. "Receiving this award, especially for the second time, validates our early conviction – as do reports from our customers."
This Pacifica Hybrid's engine has been lauded by critics and drivers alike for the long-lasting power housed in the 16-kWh lithium-ion battery pack, located under the second-row seats. When the battery's energy is depleted to a certain threshold, the Pacifica Hybrid becomes a part-time electric vehicle, like a conventional hybrid, to maximize energy and efficiency. Now with more plug station available in public and the easy installation in your own home, there's no better time to buy this hybrid minivan.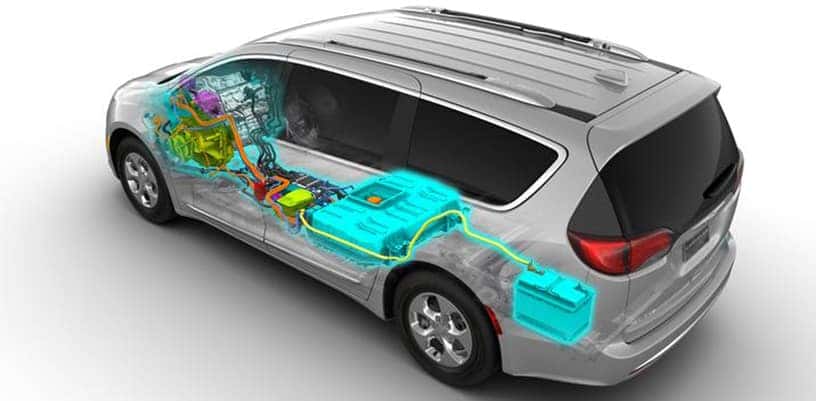 "Imagine the convenience that comes with plugging in at home, instead of stopping at the gas station once or twice a week," says Tim Kuniskis, Head of Passenger Car Brands – Dodge, SRT, Chrysler and FIAT, FCA – North America. "Now combine that with the capacity to transport up to seven people in superior comfort. That makes the 2018 Chrysler Pacifica minivan a mobility solution like no other. And it's not just us, who say it. Today's announcement is the latest in a series of such honors."
To date, the entire Chrysler Pacifica lineup has accounted for 72 industry awards tied to safety, quality, styling, and performance. Stop by our showroom today to talk to a team member about securing your model today.
Test drive the 2018 Chrysler Pacifica Hybrid and feel the incredibly efficient power of this stylish and comfortable minivan.
Images courtesy of Chrysler Media
Join the Conversation
Comments
comments