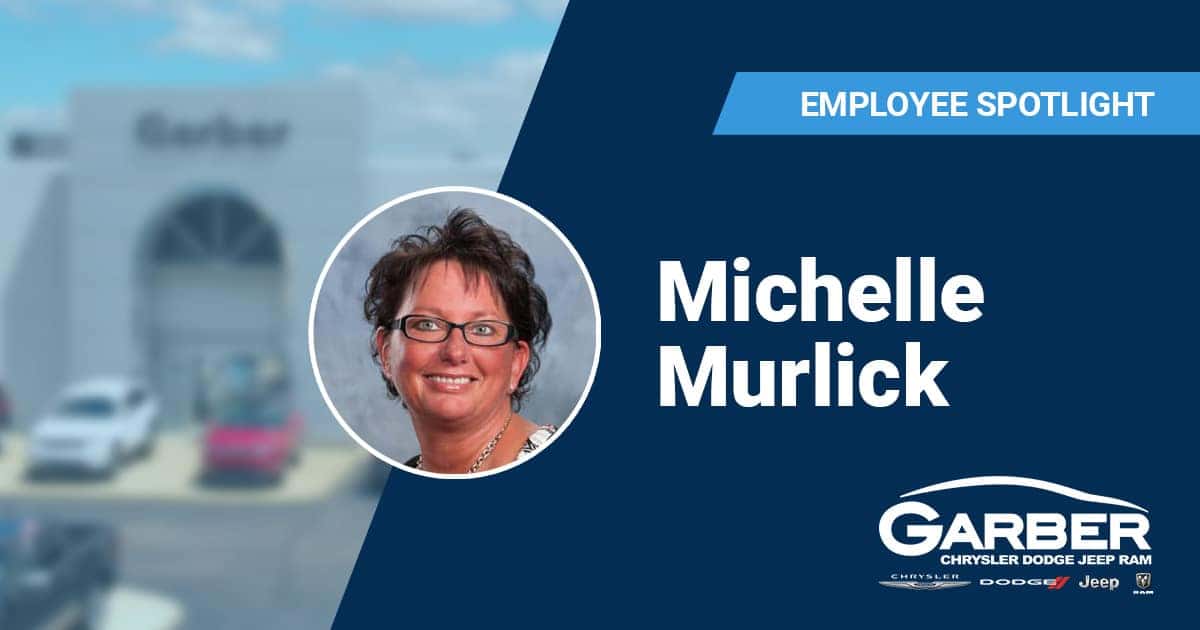 If you walk into the Garber dealership on Bay Road in Saginaw, Michigan, you're probably going to cross paths with Michelle Murlick.
She wouldn't have it any other way. She's a self-proclaimed people-person, after all. Rightfully so.
"I call myself the Director of Customer and Employee Relations, so I'm here to be a voice of reason and compassion for everyone," Michelle explained. "I'm a people person. I love to know people and talk to people. No matter what the price of the car is, new or used, everyone is so important to us. That's my job: to make people feel valued."
Michelle (often referred to as "Mom" or "Aunt Shelly" by her colleagues) is one of the first to arrive at the dealership. She's an early riser by choice. She now has a good reason to rise early.
"I come into work every day at 6 a.m. because I just love it here," she said. "I've never felt like this at a job before. Before Garber, I was working to work instead of working to live. I went for years without taking vacation. Now at Garber, I finally live again."
Before Michelle found Garber, her life looked a lot different than it does now. But that former chapter helped her write this current one: a chapter full of appreciation, gratitude, community, and fun.
"Hotel Michelle"
Michelle's introduction to Garber centered around hockey and hotels. 
"In 1998, I started out in hospitality as a sales manager at the Holiday Inn Express in Saginaw," she explained. "It's how I got involved with Garber. We hosted the Spirit players and families and coaches and teams. During that time period, Garber was one of my sales accounts."
When the Saginaw Spirit hockey team came to the area, Michelle helped coordinate booking and logistics on behalf of the hotel.
Through her role with the hotel, she worked with Mr. Garber, executive assistant Laura Biggins, and additional team members.
"My first impression of Garber was when I'd take thank you trinkets to them," she said. "I could be there five minutes, or 30 minutes, and everyone was always so nice. They used to call me 'Hotel Michelle.' It was funny."
Yet the hospitality industry was in a constant state of flux and uncertainty. Michelle worked long hours with no end in sight. It began to add wear and tear to her life.
"I went through a lot of management companies at the hotel; it was sold and bought, sold and bought," she said. "I was working 80 hours a week, seven days a week. I got promoted to Director of Sales, then was the GM of two hotels at one time."
Meanwhile, the hockey community was growing in Saginaw.
"All the hockey people were coming in, so I met all these Garber folks, and it snowballed," Michelle said. "I was so intrigued and excited to have the Spirit come to the community…to have a hockey team to cheer on."
As the hotel needs ramped up and took a toll on Michelle, she got a helpful glimpse into the world of Garber. She liked what she saw.
"We were the host hotel for Garber general managers," she explained. "They would all come in and we'd help them get to their shuttles or whatever they needed. You got to know who they were, and they were such good people. Everyone seemed happy. They would all eat breakfast together around a round table, and it was so nice to see them all genuinely happy, just laughing together. I needed something in my life like that. It was that family environment I needed. I didn't feel appreciated where I was, and you could tell the Garber team seemed to feel appreciated. Everyone was so happy whenever I'd see them in the lobby."
Witnessing the Garber camaraderie was enough to give Michelle an idea of how to exit the hospitality industry. She wanted what the Garber team members had.
"I saw that family atmosphere with Garber team members and the Saginaw Spirit," she said. "It was the craziest thing to me, how everyone felt appreciated and happy. I knew I needed a change."
One Call Away
In the spring of 2013, Michelle decided to pick up the phone and make a life-changing phone call.
"My physical and mental health was being challenged," she said. "I thought, 'I have to change something.' So I called up Mr. Garber and said, 'Can we talk?' He always had been so kind to me and always had an open door."
"Dick said, 'When can you meet?' He gave me three and a half hours of talking and peeling the onion back to see what I wanted to do. I told him I wanted to be done with sales. I just needed normalcy. He calmly listened to what I was saying. He said, 'I might have something for you. I have an idea. Give me a week or so.'"
Then Michelle received a life-changing call of her own.
"I will never forget it," she said. "I was driving and my phone rang and it was Erika Ardouin [Director of Recruitment at Garber Management Group]. She said, 'Hey Michelle, do you remember me? We think we have something for you, and we want you to talk to the GM. It's brand new. We don't even know what to call the role. Dick wants to meet for lunch.' I was grinning from ear to ear."
A meeting was arranged between Michelle, Mr. Garber, and Scott Ellsworth, the general manager of the Garber dealership on Bay Road in Saginaw at the time. There was an opportunity for the dealership's customer satisfaction responses to improve – and Michelle would be a part of that plan.
"I didn't hear from Scott for a few days, but then he called and said, 'Michelle, we have something perfect for you,'" she said. "I went in and went over what the position would entail. It snowballed into this role as the Director of Customer and Employee Relations. I am so grateful. Scott Ellsworth is one of my favorite people."
Michelle took the job, and it is a role she has held with pride and commitment ever since. She serves a liaison between the community, customers, and the dealership
"We take customers' concerns and celebrations to heart," she said. "Every person is valued and their thoughts, feelings, and concerns are everything. We can only be as good as our growth within ourselves."
Community-Minded
Along with helping customers and supporting the team, Michelle is heavily involved with the community.
"My role of taking care of customers and employees has grown to include community events and make sure what we do for the community gets organized," Michelle said. "We adopt families for CAN council and raise money for families here at Bay Road to support them. We also do Light the Night and participate in an Alzheimer's Walk. We gather food for Hidden Harvest. I am a former ambassador at the Chamber. Everything we do, we do with our whole hearts. It's fun to come together as a team. It's such a whole-hearted, caring part of this place."
Michelle said Garber makes it a point to give back to our community, and our community helps us to give back. It all comes full circle.
"Mr. Garber always says, 'We can only do what we can do in the community because people buy cars from us,'" she said. "Garber is the community. If people don't buy cars, we can't support the community as much as we can. We are generous in what we do because of our customers who support us."
When a customer buys a car, it is so much more than buying a car, Michelle said.
"We are building a relationship, not just selling a car. We're sold to entire generations before: mom, dad, sister, brother. It matters where you buy your car. It's not just Garber's slogan. It does matter."
Life-Saver
For Michelle, Garber isn't just where she works.
"Garber saved my life," she said. "They will have to take me out of here kicking and screaming. A weight was lifted when I came to Garber. I felt like I was carrying 700 pounds on my back with no gratification, and Garber lifted it all."
She said that she does not have a single bad thing to say about working at Garber. Her colleagues have become family.
"It's exciting to know that out of everyone here, I also know a good portion of their family, children, spouses, partners, what goes on with their lives…they are my family," she said. "I go away on vacation and I feel missed. I lost both of my parents and I couldn't believe all of the Garber folks that showed up for the funeral. You don't know how much that impacts you until it happens. That's huge."
She said she loves the support that this company brings to each other and to the community.
"We walk the walk and talk the talk," she said. "The support that is shown organizational wide is huge. Everyone as a whole truly comes together.
Fast Five

First job? Babysitting. I was 12, or 13, here in Saginaw for all my cousins.

First car? I had a white Monte Carlo, but I never wanted to drive. I still don't like to drive. I'm a very happy passenger.  

Three things you can't live without? Family & friends, traveling, cooking. I love to cook for people. When we have a snow day here at the dealership, I get to cook —  we will have big pots of sloppy joes, meat balls….When there's a snow day, it's all hands on deck. Everyone is brushing off cars, salting, moving cars. It's a full production. We used to get everyone pizza, but I was like, 'We have to step this up.' So I started cooking so everyone would have a hot meal when they'd come in from the cold.

Something people would be surprised to know about you? I'm an open book. There's really nothing that people would be surprised to know about me.

Best piece of advice you've received? "Treat people how you'd want to be treated." I got this advice from my parents.