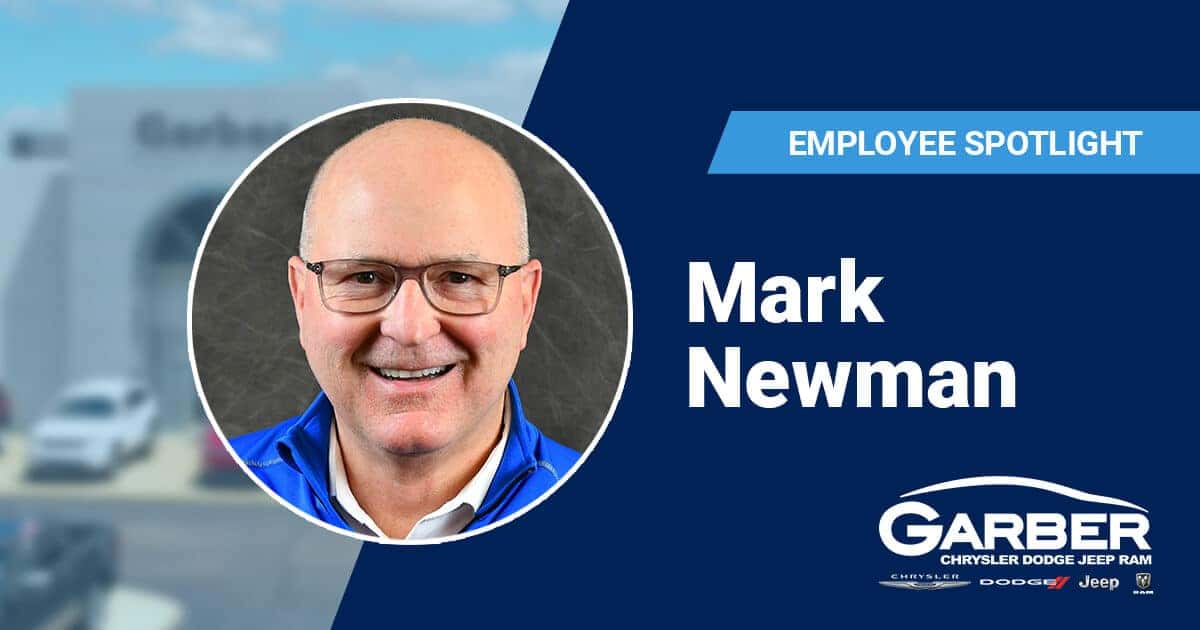 Mark Newman was meant to be a car salesman.
The signs were all there. They were there right from the start, really.
 When he was a kid, he and his brother sold refurbished bicycles on the side of the road.
 When Mark was growing up, his dad – a big Buick fan – would take Mark and his brother to Garber Buick to "cruise the lot and look at all the new Buicks."
As a college student at Saginaw Valley State University, Mark took a career assessment test…and the results said that he should be a car salesman.
When it comes down to it, Mark wasn't just destined to work in car sales. He was meant to work at Garber.
As a sales consultant for Chrysler at Garber Chrysler Dodge Jeep Ram in Saginaw, Mark said his career here is more than a career.
"Working for Garber has been a dream come true for me," he said. "Just a dream come true."
It's a dream he doesn't have to wake up from…since he's living his dream right now.
The Sales Bug
Mark loved sales before he was even old enough to drive.
"I first fell in love with sales when I was 10 or 11 when my brother and I started selling refurbished bicycles that we would repair and put out front on the side of the road," he said. "I liked the thrill of having someone buy something from you that you put some time and effort into and have them be happy with their purchase. I really enjoyed that. It was the first time I made any money."
Sales didn't bring Mark into the automotive world right away. After attending and working in the food service area at SVSU, Mark moved to Kansas for a food service sales job.
But something was missing.
"We were there for about a year and I got homesick," Mark said. "I missed Michigan, so we packed up and moved back. I had no idea what I was going to do, but I thought I would follow my dream to sell cars.
Mark returned to his home state, selling for a Ford dealership. When the dealership's owners asked him to be a New Car Sales Manager at a new dealership in Clio, Mark hopped on board. He stayed for 25 years.
The sales bug started biting him again.
"I realized that, while there were aspects of management I liked, I really missed the one-on-one relationship of frontline selling… having the confidence of actually giving you the ability to sell them the car and having confidence in you to sell them an expensive item," Mark said.
That's when he discovered an opportunity too good to pass up – and it allowed him to return to his roots.
"Garber was opening a Chrysler dealership in my hometown of Saginaw, so I decided to jump ship and I went to Garber," he said.
Garber was a name that held weight in Mark's mind
"Growing up in Saginaw, I always heard all about the good things Garber did," Mark said. "My parents drive Buick cars, which helped, and I knew the Garber name. I have always loved everything they do for the community."
Now Mark was a part of the company he admired for years….and he's stayed a part of it ever since.
'I'm Proud to Come to Work Every Day'
It has been 11 years since Mark joined Garber. There are many reasons he stays with the organization.
Garber's community involvement, for one, Mark said.
"I'm proud to come to work every day because of what the organization stands for and what they put at the forefront of their business," Mark said. "It's not for the quick buck. It is nice to work for someone that truly puts the customer and the community first, which I really like being a part of. I am proud to be a part of that aspect of it."
Another reason Mark stays at Garber? How employees are trained and treated.
"Garber cares for employees' well-being and what's going on in our lives, which is a big one," he said. "If you care, you're going to be fully engulfed in lives and that's what people need. Employees need to know someone cares…and Garber cares. If people at Garber notice that you're off or different, they're not afraid to inquire. They are quick to ask what's going on and try to help."
He said the results of the Garber culture speak for themselves.
"You should pick up a copy of Automotive News and look at the list of the Top 100 dealerships in the country," he said. "Our dealerships are on that list every year. It's not by chance."
Mark said working for Garber has been an amazing decision…one that he's grateful he made.
"You could not find a more fulfilling organization to work for," he said. "In my case, they've allowed me to do what I enjoy most while working for a company that truly gives back to the community. It's a win-win. Thank you, Dick and the Garber organization, for allowing me the opportunity. Working here makes you very proud of what you are doing with your life every day."
Fast Five

First concert? Bob Seger, 1976.

First car? International Harvester Scout. My favorite car was a '69 Chevy Camaro that my brother-in-law gave me just before I started at SVSU. 

Favorite meal? Probably a good steak and baked potato.

Three words to describe your personality? Honest, reliable, optimistic 

Bucket list item? I'd like to go to Europe, maybe France or Italy.