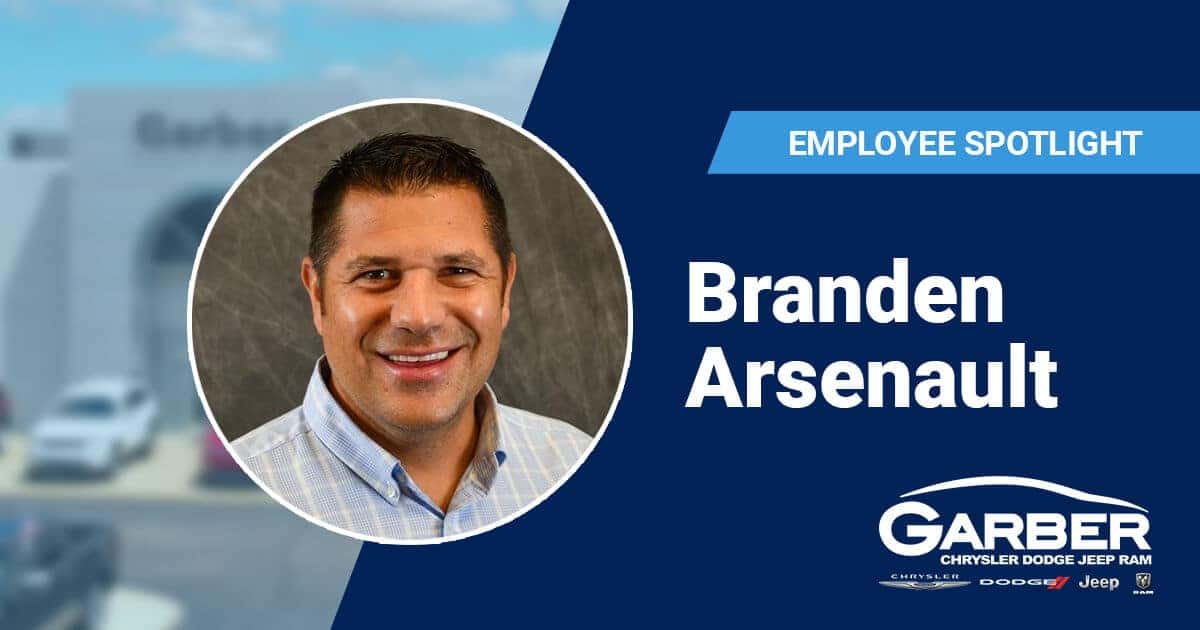 Branden Arsenault is used to rolling with the punches.
He's also used to dishing them out, too.
Before Branden was the Used Car Sales Manager and interim General Manager at Garber Chrysler Dodge Jeep Ram and Garber Nissan Hyundai in Saginaw, Michigan, he was a boxer.
Like. A legit boxer.
"I've boxed my whole life, ever since I was a kid," he said. "It's in my family's blood. My father boxed; my two brothers boxed. Our family owns the Greater Bay Area Boxing Center. At one point in my life, boxing was my career."
Ultimately, injuries curtailed Branden's boxing pursuits. He was down, but he wasn't out. Branden transferred his work ethic to a new arena: the dealership.
"I always want to be number one," he said. "I don't like average. I don't have a content bone in my body. I always want to win here, just like I wanted to win at boxing."
Working at Garber has filled that need for competition that runs in Branden's veins.
"If you have an athletic background, automotive is a good industry for you," he said. "Every day is a challenge or struggle that you get to overcome."
It's that competitive nature that helps Branden excel here at Garber, day in and day out. He's found a new home outside of the boxing ring – and a lifelong career.
From the Ring to the Road
Some people pick a path and follow it to the end. Others take a few steps and see where it leads. If it's not going in a fulfilling direction, well…they aren't afraid to choose a different path.
Branden is the latter.
"I was going to college to study child psychology and criminal justice at Saginaw Valley State University," he explained. "But I hated college. I did a year of college and joined the Marine Corps from 2001 to 2004, then I went to Delta Community College with intentions to transfer to Central Michigan University. I got an apartment with some buddies and just never went to CMU."
That's when boxing – a sport that was bred into his blood since childhood – became a professional pursuit.
"I boxed amateur and won all of the state championships at different levels when I was younger," he explained. "When I stopped going to college, I had the instinct to box again. It's what I had to do. After fighting in national competitions, I decided it was time to turn pro and make money that way. I was 22 years old."
Boxing wasn't his only career path he was chasing at the time. He was introduced to the automotive industry through a family friend.
While boxing was a past-time that Branden was familiar with, working in automotive sales was new. He felt uncertain.
"I started in the car business right before I turned pro, and I didn't know if the car business was right for me at first," he admitted.
He didn't choose one or the other. Instead, he did both.
"It was hard, but I kept boxing while in the car business," he said. "I'd wake up at 5:30 a.m. and train, eat, get to work. Then after work, I'd spar and train. I was mentally and physically drained."
He kept going – until he couldn't go anymore.
"In 2008, I had to retire from boxing because I had osteonecrosis, which means your bones hollow out. I was 28. Doctor said I had to quit. I was 5-0, all first-round knockouts. And then it was all gone."
Becoming a Garber Guy
After boxing, Branden pivoted. His career in the automotive industry became his sole focus. He worked at two local dealerships for a total of 16 years.
Over those years, Branden was aware of Garber, and Garber was aware of Branden.
Then timing intervened. Circumstances interrupted Branden's career path at a different local dealership. He decided to take some time off from the dealership life.
That's when Mike Wenglikowski, now the general manager at Garber Chevrolet Saginaw, spoke some life-changing words to Branden over lunch.
"I had a conversation with Mike Wenglikowski [Wengo] and he said to me, 'You need to be a Garber guy,'" Branden said. "Wengo said, 'I have an idea: You need to meet John Margaritis. You're going to love each other.'"
At the urging of Wengo, Branden met with John Margaritis, the General Manager at Garber Chrysler Dodge Jeep Ram and Garber Nissan Hyundai in Saginaw.
Wengo was right.
"I met with John Margaritis one time, two times, three times," Branden said. "I hit it off right away with John. He's a truly good person. We have the same passions and he allows me to do what I want to do."
Branden joined the Garber team as the New Car Sales Manager. He's never looked back.
"I love the different daily tasks in the dealership world," he said. "It's not the same every day. I get to make my own money. It's up to me. The Garber group is just the right fit for me."
Good People
Branden has worked at Garber for three and a half years. Now as the Used Car Sales Manager and the interim GM, he helps to reinforce the values that set Garber apart.
"The honesty and integrity our stores live by is renowned throughout the business. We don't lie, cheat, or steal. We always ask ourselves, 'What would Dick [Garber] do?' Our job is to bring you back. We're not supposed to take care of customers just now. We're supposed to take care of you in the future, too."
His favorite part about working for Garber, though, goes beyond the daily tasks and competition.
"What I love about Garber is I feel like me; I feel like myself here," he said. "It's nice to surround yourself with good people. Good things happen when you're around good people. We all have the same goals. Customer satisfaction is truly valued over money here."
While he feels like himself, he also said he's changed thanks to Garber.
"My colleagues joke now, 'Branden's been Garberized,'" he laughed. "In the past, maybe I would have fired someone quickly. Now I try to find the right spot for them. The goals Garber and John [Margaritis] have put out aren't just to grow the company, but to grow within ourselves. A salesperson recently said to me, 'You've made me a better person in my life, not just sales.' We want our people to grow, not just sell. That's our number one goal."
The Garber attitude is all about the team rather than just the individual.
"A good manager doesn't just lift themselves," Branden said. "They lift others, too. We have GMG support that helps us as a dealership; they help with deals, titles, marketing. There's so much here to help you succeed here."
Fast Five

Something people would be surprised to know about you? I've been to some great games. I took my son to the U of M/OSU game. I was at the Malice at the Palace and helped break it up.

First car? Cadillac Seville with a drop back. Burgundy with burgundy interior.

Favorite food? Pizza with pepperoni, ham and green pepper

Three words your family and friends would use to describe you? Goofy, energetic, leader

Bucket list item? Go to Italy